Category Archives:
live performances
You might be surprised to hear that I once again lucked out with the weather in Vienna, something that only a year ago seemed laughable. T-shirt weather in October in Central Europe!
I also lucked out with my hastily bought seat1 and had an all night direct view at Galoumisù
 visually there's precious little better than DG's upper back/neck and with a profile view you get the best of both worlds… But, you know, the music!
2017 shall remain in dehggi history as the year of the contralto hunt, as all my opera trips were dedicated to the rarest spotted fach.
Giulio Cesare: Lawrence Zazzo
Cleopatra: Emöke Baráth
Tolomeo: Filippo Mineccia
Cornelia: Delphine Galou
Sesto: Julie Boulianne
Achilla: Riccardo Novaro
Conductor: Ottavio Dantone | Accademia Bizzantina
It may come as a surprise to some that, although I have by now quite a few experiences with, for instance, Ariodante, this is the first time I've seen Giulio Cesare in any house. So that is why, perhaps, I felt I liked the music a little less. To be sure, taken aria by aria we have a slew of strong ones, but also our ladies get some proper dirges. Also Tolomeo doesn't get quite the snappy material Polinesso has. His horribleness usually amounts to old skool sexism:
Tolomeo: hey sexy mama, how about you and me in the desert-shed? Bow-chica-wow-wow!
Cornelia (lips twisted in disgust): how dare you, third world vermin, speak like that to a Roman Citizen?!
This exchange happens 3 or 4 times (as Cornelia is also popular with Achilla) and with both Galou and Mineccia very good actors, it was, dramatically, the highlight of my night. But I couldn't help thinking we've got a sleazy man caricature and a racist cow… I mean, no shit, Cornelia, you're the symbol of the colonialist establishment, you may not want to use that particular trait as the one we should remember you by.
However, Anik and I agreed nobody moves quite like Galou. She has the height (+ those heels that somehow haven't broken her back yet) and enviable posture and she knows how to work them. This was the first time when I could see why these dudes are so hot and bothered by Cornelia, who usually is made to look like this mature and sorrowful widow, ready for the veil.
In that sense, Boulianne as Sesto appeared more like Cornelia's younger sister (a vacillating Zdenka?). Though a singer I have appreciated in the past2, with a resonant voice and interesting darker tone, I'm not convinced Handel is her repertoire. Perhaps she was too focused on the surprisingly many, moody arias Sesto has, but on the heels of Galou and Mineccia, I was hurting for even a bit of nervous movement to go with that angst. I know I'm a fidget but how can you refrain from putting your body into this stuff?!
Hats off to Mineccia for his fantastic stage presence, with liberal (but very well directed) moving about. As I was saying earlier, his interactions with Galou (<- those snarls! haha) were priceless. I also liked the "sculpted" string sound during Empio, sleale, indegno – an underrated aria. He didn't portray Tolomeo quite as a teenager but in the context of a very fiery Cornelia that rude young man thing was a logical foil.
However, back to Boulianne's Sesto, I did enjoy her duet with Galou's Cornelia. Their mix of very different voices (though I think tessitura-wise they're rather similar) worked nicely for me. The dark colour brings them together for blending, but the weight and approach to singing makes each one pop out.
Going to see Cesare for Cornelia is a thankless task, though, being a sucker for the plight of damsels in distress, I obliged 😉 Ok, who am I kidding
I don't quite care about Cornelia's arias; in fact I was surprised to learn she has a chipper one towards the end. So far no matter how good the singer I thought it was just whinge, whinge, that third world bastard killed my husband, boohoo, my teenage son and I are all alone, omg, who's going to save us now that Cesare is dead? Hello, Mr librettist: why the hell has Cornelia gone to Egypt with her teenage son in tow?
Cornelia: look, Sesto3, that scum there is your father's murderer! Stab him!
Sesto: omg, I must be strong, but I'm only 12! What's my mum been thinking?! Shit, now I'm seeing things…
You will say, wait, wait, dehggi, she didn't know Pompey was dead. She thought he was just imprisoned by Tolomeo and Cesare (aka, Ancient World Police) would negotiate with (= force) said third world bastard and all will end well and her family would get a Sharm el-sheikh holiday out of it as entitled to by their first world status. It's still kind of funny when, after liberally throwing imperialist/racist abuse at sleazebag she goes all omg! we're lost. You're in a war zone, lady.
That being said, I loved Galou's timing and interactions with the orchestra – the way she got in and out of the phrase and how that blended with the sound around her – surprisingly especially when she was "duetting" with the flute, if I remember correctly. I also got a kick out of her big grins during and lots of clapping after Va tacito.
Zazzo, whom I remember as a very approachable chap from the masterclass I saw a few years back, seems to be a relaxed and courteous man all around, as he gamely shared the stage with Mr Hornplayer during this (Va tacito) most famous (?) or Cesare's areas. Perhaps not as memorable a voice as others, his is very congenial live, when countertenors can sometimes come off abrasive.
He's also a "stage mover", though perhaps not quite as deliberate as Galou and Mineccia, but he brought out a surprisingly affable and luminous Cesare, who'd probably (very nicely) tell Cornelia to dial down the imperialistic angle. Along the same lines, his portrayal came off like Cleopatra was out of his league, but wow, what luck, she might actually like him (the kiss at the end of their end of opera duet was on-the-cheek shy). By the way, how catchy is that duet? Zazzo and Baráth somehow found the energy to play with it and sound playful whilst doing so. It got stuck in my head for the rest of the night and most of next day.
So now that we've established TADW decided to advertise this as Cleopatra in Egitto, how was Baráth? She was very fine, indeed. She has the Baroque-tone, the coloratura, the breath, the intelligence and the looks to pull it off but you know I thought Cornelia outshined her Cleopatra when it came to stage movement/charisma. She's a bit too contained/cautious, but perhaps she'll let go with time and experience.
Novaro as Achilla was very reliable and I really liked his red/black dragon jacket but, you know, Achilla. He was pretty respectful in his interest in Cornelia and took her rejection rather meekly.
During whingy less interesting arias I had time to listen to the hall and it is true it's not absorbent (which is probably a good thing for this repertoire). Luckily our singers were in very good form. The band wasn't bad, though I understand it was occasionally sluggish/unfocused. The public was as usual very discerning and I was pleased to see that all the people on my row were interested through the evening.
Anik and I met before the show for one of those chats that managed to mix the traditional opera snark, the chicken with four breasts and whether personal bunkers of hard liquor is the best answer to Europe's current problems. At interval we were joined for impressions by another very enthusiastic WS, who has already put up a review which will hopefully answer the questions I skipped.
The good news is TADW continues to win at Baroque opera in concert.  Another good news is that TADW doesn't object to taking your camera to your seat. The bad news is Quel torrente was cut again. And with Galoumisù so close at hand!
---
too hastily, it seems, as "my" box remained empty. I thought about returning to it but then I wouldn't have had Galoumisu eyes all night. ↩
Don Giovanni in Paris last December. ↩
why are Sestos always urged by strong women to stab someone? ↩
Wiggy usher (opens a window): oh, hello darling!
Woman: hello! I've never heard this band before, are they any good?
…
…
Xavi Sabata countertenor
(dis)Armonia Atenea, George Petrou director
Antonio Vivaldi (1678-1741)
Concerto for Strings in G minor RV157
Giuseppe Maria Orlandini (1676-1760)
Ciò che donò la frode … Alza al ciel pianta orgogliosa Adelaide
Francesco Bartolomeo Conti (c.1682-1732)
In te, sposa Griselda, mi uccido … Cara sposa Griselda
Antonio Vivaldi
Trio Sonata in D minor Op. 1 No. 12 RV63 'La follia'
Pietro Torri (c.1650-1737)
Vorresti col tuo pianto Griselda
Antonio Vivaldi
Gelido in ogni vena Farnace RV711
Interval
George Frideric Handel (1685-1759)
Admeto, re di Tessaglia HWV22
Introduzione
Orride larve!
Chiudetevi miei lumi
Johann Adolf Hasse (1699-1783)
Viver vogl'io sempre per te mio dio … Or mi pento La conversione di Sant'Agostino
Antonio Vivaldi
Mandolin Concerto in C major RV425
Attilio Ariosti (1666-1729)
Spirate, o iniqui marmi … Voi d'un figlio tanto misero Caio Marzio Coriolano
Giuseppe Maria Orlandini
O del mio caro ben … Già mi sembra al carro avvinto Adelaide
Encore:
Lorca poem in Greek
Delizie e contenti Cavalli
…
…
Yes, the "…" are supposed to be not particularly subtle pregnant pauses liberally placed.
And, no, the moniker "German piano" isn't my invention, because I know nothing about pianos, German or otherwise. I nicked it from Baroque Bird, who actually owns a piano (German?).
I do however know a bit about the – trv kvlt – black metal sound, which I occasionally reference around here, most famously in relation to Roschmann's "facial" during Non piu di fiori 😉
…
In this case, it's what the band's sound at "shredding time" reminded me of. Those of you not familiar with (the second wave of) black metal should note vintage bm is the most trv kvlt-sounding of all extreme metal genres1. Forget death metal growls, forget industrial's… industrial sounds; bm's vision2 is:
get beat up instruments from a decrepit second hand shop
drag them through thickening mud
plug them in (bonus if you get electric shocks on occasion)
shred in unison only
place boombox from 1981 (previously run over by a lorry) about 50m away from the instruments
hit record (hit it like you mean it)
rip out the tape's ribbon
shred it to pieces
piece it together randomly with used sellotape
shake well until you achieve complete homogenisation of sound
save on your laptop using the lowest sound quality possible
play loudly on said 1981 boombox
= masterpiece!
bonus: take yourself very seriously
ps: don't believe me?
I (being the kind hearted optimist you know and love) prefer to think this was Petrou's mission statement, rather than a showcase for the band's actual skills.
Or I did back in Halle this past June, when I blamed it all on boogie the acoustically challenged venue.
They did come up with a new twist here – perhaps they did it in Halle too, and the acoustics were indeed so echo-y the whole thing bounced off my skull and got lost. This new(?) twist was the czardas-turned last ritornello in La follia, that unfailing old Vivaldi chestnut. Or was it a sirtaki? Now I seem to remember it's customary to make sure your violin keeps in tune for a czardas
…
…
but I'm not a musician, so I can go stick my opinion in a blog or something, right?… all I'm saying is I've actually (or literally) had my ears checked recently and they have passed the MOT.
This Summer I listened to more Currentzis than I cared to and to be fair, that
…
pregnant pause thing
…
has its merits. But this time I really hurt for some legato with that pregnancy. It should still flow, shouldn't it? I don't know if you, dear reader, are familiar with Tracey Emin's hand drawings, but suffice it to say that drawing skills aren't prerequisite for becoming a contemporary fine art superstar. Still Tracy Emin surprised us with her humble side a few years back when she suddenly put some effort into honing her inner Picasso. The night's orchestral accompaniment was the aural equivalent of that when it came to negotiating dynamics (and, often, tune).
dehggi (during the Cavalli encore): ah, so exquisite! Even the violins are more in tu… nevermind, I spoke too soon. But Sabata should sing more of this stuff.
After all, we were all there to hear him. I for one wanted to see him live specifically for his dramatic talents. At one point (right after the intermission?) he walked out with the band. The aria had a very long intro so he stood quietly to the side. All of a sudden he walked decisively towards the centre of the room, but not "hi all, listen to my next aria", which is how it often feels like in recitals. Or how Antonio Poli walked off stage after a really good rendition of Il mio tesoro in the staged Don Giovanni at ROH :-p 3 No, this was thoroughly in character well before he started singing. And then things got even better because he has a very good technique that serves him up and down the range. And, you know, he's in tune.
At first I didn't quite know what was happening because I barely heard him during the first aria and I lay some heavy blame on his projection or lack thereof. You should be heard from the 11th row at Wiggy. But things improved dramatically during the evening, which caused me to place the blame back on the Tracey Emins. Good on him for not forcing himself to sing over the racket. The second aria was already much better, when he employed some very stylish forays down the middle of his voice and all of a sudden someone on stage had personality. Fancy that.
He's not the kind of singer who dazzles with endless coloratura (I understand this is the basis of the German Piano metaphor) but he can phrase with the best of them and has an imagination (and skills) to shape the sound, as thadieu would say. Which is why he should sing more of that Early Baroque, I think he has the right feel for it and for making it exciting.
In spite of all this, there were a couple of things from the others that I enjoyed – the metallic wrist-slashing chords from the viola da gamba during Gelido in ogni vena, the jazzy show starter from the double bass4 and the "wave" sound (during the Lorca song) that came out from the gut of the harpsi when Petrou stroked it. Wish the Vivaldijazz was further explored/incorporated and not in that L'aperggiata smooth jazz manner.
… it made for very lively conversation with Baroque Bird, Leander and friends at the interval and afterwards, though we didn't all agree about everything.
as usual, sorry for any typos/errors, it's been almost a week and I want to put it out there and my brain is a bit hazy edit-wise today.
Sonia Prina contralto
Paolo Spadaro Munitto piano
Claudio Monteverdi (1567-1643)
Voglio di vita uscir
Lamento d'Arianna
Béla Bartók (1881-1945)
Three Hungarian Folksongs from Csík BB45b
Henri Duparc (1848-1933)
Au pays où se fait la guerre
L'invitation au voyage
Chanson triste
A piece from Feuilles volantes Op. 1
Manuel de Falla (1876-1946)
7 canciones populares españolas
Interval
Mátyás Seiber (1905-1960)
4 French Folk Songs
Fryderyk Chopin (1810-1849)
Chanson lithuanienne Op. 74 No. 16
Lamento Op. 74 No. 9
Madrigal Op. 74 No. 12
La jeune fille et le fleuve Op. 74 No. 3
George Gershwin (1898-1937)
The Man I Love
3 Preludes
No. 2 Prelude in C sharp minor
Erroll Garner (1923-1977)
Misty
Encore:
Bella Asteria Tamerlano
Don't we all want to hear our favourite singers occasionally step out of the same old, same old?
No?
…
No?
😉
Regardless of what we want, they sometimes do. In this case Prina put on a dress and spent most of the evening crooning. One's personality comes out well rounded in recitals and so there were still enough fist pumping moments as well as humour (the Bartók songs). Mostly, though, it was an evening that quite naturally lead into Bella Asteria.
Perhaps it was a logical response to unfamiliar sounds (though the songs in themselves were entertaining), but I've never heard a more beautiful rendition of Andronico's serenata. This isn't an aria that normally makes me purr, plus when she was in London for Ariodante she'd sung it in her BBC interview and I was quite unconvinced. But though she herself admitted she was tired, this time it came out really pretty. Her ppps were on fire all night, as was her phrasing.
The Duparc set seemed to me the most suited to her voice – she did it very low and velvety so now that I heard the songs that way I don't want to hear them any other way. Her "vocal meandering" in L'invitation au voyage was exquisite.
The least suited was the de Falla stuff, which seemed to me like, in spite of her dramatic involvement, never quite bloomed. I kept thinking it needs ping, but aside from the tartness her voice gets at the very top when she's loud, there's no ping in her voice.
Baroque Bird joined me at the show at least in part because I managed to misplace all my Autumn Wiggy tickets and needed a reprint :o! She knows more about music than I do and she gave me some pointers regarding the piano, which is an instrument I don't quite get (as in, I don't normally know what I'm supposed to be looking for).
According to her, Spadaro has a particular feel for jazz so the second part came out more naturally to him. I was seated on his side and all I could say was that he was too loud in general. After she mentioned it, I could follow that he tends to finish songs quite abruptly, which on occasion I thought hampered Prina when was going for a dreamy atmosphere. But she likes him and she obviously teamed up with him for that jazzy feel she was after all night.
The jazz stuff sounded very well – Baroque Bird had come especially for that and was so happy with the result she said she's all for Prina singing/recording more of that – and it got me thinking that Baroque specialists have the advantage of that more relaxed style of singing when it comes to song in general. It never felt like there was a break in styles, the show just flowed very naturally, though Prina did get into the spirit of things (I can tell you she had the right temper and timing for the Bartók stuff).
It left me in a very mellow mood, basking in her pps and tangy frutti di bosco gelato tone and wondering how things would've been if she went the jazz route instead.
Intermission notes:
This time I cried during Del piu sublime soglio. Awesome performance from Croft.
Everybody is more relaxed by now, the acting flows beautifully. There are no more cameras.
Rookie audience:
Young woman at intermission: is Sesto sung by a woman? I kept wondering…
Other ladies in the loo queue: Yes, yes, he is. There was a cast change. But the reviews are about the one we're seeing.
Young woman: oh, wow! Sesto is the star of the evening!
Other ladies: YES!
The only applause came after Parto. I was confused as it had been so beautifully performed, light and gentle, with some swoony ppp along the way (really moving) but also funny (Vitellia putting the moves on Sesto).
Especially in the wake of the Currentzis Tito I want to commend Ticci and Gupta on the fortepiano continuo for a very light, unfussy touch.
It's raining. I took refuge under a very friendly mulberry tree with a cute little sleepy bird. How appropriate!
We had a weird incident on the way here, that held up the trains for almost an hour and a half. Luckily I was on a train ahead of the suggested train. The shuttle waited for the stragglers 🙂 but we only had 20min to settle and have a bite before curtain up.
Loud thunder was overheard in the auditorium just as the insurrection started on stage.
Staff offered umbrellas but I like my tree. Too bad I couldn't visit with the sheep properly (now grazing on the adjacent meadow) ❤
Gent next to me in the auditorium: nobody dies! Not very operatic.
Dehggi: nobody should die. It's all about the search for a better, more forgiving society.
After the intermission:
This was an all around emotional day, as it was my last time at Glyndebourne this year, the end of "my" season (though I really would've liked to come back again a couple of times, but you have to observe life-opera balance). Also going to the opera on your own makes for a very different atmosphere, perhaps even moreso when it's your favourite opera. Even so, a few conversations happened:
Lady who sat next to me for act 2: I saw you talking to the usher about those free seats up there.
dehggi: yes, I want to possibly upgrade because this is my favourite opera.
Lady: …of all operas?!
dehggi: YES! I really like the ideals, forgiveness… and the music is beautiful.
Lady: well, someone is always forgiven at the end of Mozart operas.
(dehggi: someone, even some ones but not everyone.) I didn't actually say it, because I didn't particularly want to chat, I was in my own world and cried again during Eterni dei. After the curtain calls I dashed out for fear somebody would notice how tearful I was. Also to be first in line at the loo.
On the bus there were two French people behind me. The woman thought the production was too "brutalist" and concluded "this was the new tendency". I wanted to turn around and ask where she had been for the past 20 years. She did think the voices very good, though this opera was "by no means" one of her favourites (dehggi: eyeroll). Then she went on to wax lyrical about some wonderful production of Giselle at Opera Garnier.
At 21:30 the train station was almost deserted and the train board let us know the 19:30 was delayed. Some ladies started to make plans in case the trains were still disrupted. I said I'd help them split the taxi bill to London if it came to that. We co-opted some very excited Japanese ladies, so all in all, we would've been 5 to split that bill.
The train was on time. I've never heard the Glyndebourne crowd whoop so freely outside the opera house before 😀
Everybody said they liked the performance, very good voices. One of the "taxi planning" ladies explained trousers roles to me 😀 Then I somehow got to talking about the earlier Hamlet production/opera with the other taxi lady. She, like the gent sat next to me at that performance, loved it (the actual music)! She also thought the production was "more modern" than this one. (dehggi: head scratching moment. Maybe we were thinking of different things?).
In the end, there were three arias that received applause: Sesto's and Se all'impero (<- a lot more than for the livestreamed performance). However, there was very loud thumping at curtain calls. I guess this audience is more used to lieder? Heh. I'm not quite sure why they kept their appreciation to the end if they actually liked it this much. There was, however, a lot of laughter, even during Vengo…! Aspetatte! I agree, it's a funny moment.
In July 1984 Metallica released Ride the Lightning, which turned out to be an early Thrash classic. Crucially (for yours truly), it included this gem about that bit in the Old Testament that deals with the 10 Plagues:
But way (way) before that – over one month in late 1738 -, DJ Handel flipped the pages of his well thumbed Bible to the Book of Exodus and covered the same territory in his most chorus heavy oratorio, known as Israel in Egypt. I'd say both are on the same level of exciting, as is the story itself. I mean plagues on the enemy. Genius nationalistic PR there.
DJ Handel assembled Israel from a motley array of sources that did include his own work. Even so, the fickle London audience, on whose account he had stopped writing Italian language dramatic works on secular themes (= operas) and turned to English language dramatic works on Biblical themes (= oratorios), was too shocked by the sheer amount of chorus featured here, so Handel soon revised the work by removing the initial chorus only 30min lament and adding some arias instead. Chorus societies have of course never stopped loving it – and so will anyone with an appreciation for a finely spun tune on multiple voices -, though I bet the singers are hoarse by the end.
The cheerful Plague of hailstones (with fire) is catchy as hell yet the best bit is the immediately preceding Plague of flies and lice (He spake the word), where Handel has the strings positively buzzing:
Christie really went to town with the buzzing, it came off a lot more vivid with surround sound from the strings than in this otherwise very fine Gardiner/Monteverdi Choir recording from some 30-40 years ago (maybe they had similar but the technology of the time doesn't do it justice).
Both are apparently clever rip-offs from adventure-loving Alessandro Stradella's wedding serenata Qual prodigio é ch'io miri –  also known as the Plague of marriage 😉 – from the time of Handel's audience's grandparents (he clearly figured they wouldn't know these tunes anyway).
On 31st July 2017 at 8:40pm, the Orchestra of the Age of Enlightenment finished playing Tito at Glyndebourne and on 1st August 2017 at 7:30pm they started playing Israel at Royal Albert Hall in South Kensington. Busy week, eh?
Handel Israel in Egypt (1739 version)
Zoë Brookshaw soprano
Rowan Pierce soprano
Christopher Lowrey countertenor
Jeremy Budd tenor
Dingle Yandell bass-baritone
Callum Thorpe bass
Choir and Orchestra of the Age of Enlightenment
William Christie conductor
I would urge you to listen to this fine oratoriccio but first you need to decide if you want to register with the BBC instead, as they now require.
I have to congratulate the 60 piece or so choir for a truly ace job. Their blending was optimal, as was their stamina and timing. A true pleasure to listen to, due in part to the clever arrangement of different voices among each other (sopranos, male altos, sopranos, tenors, bass etc.) but mostly clearly to their superior craft. The orchestra was equally big for Handel yet Christie got a very light and supple sound from them, clear and with tempi that didn't let anyone flag. In fact I heard some people comment on the way out that "there were no dull moments". Great interventions from the trumpets, timpanist and the winds. We've established already that DJ Handel knew what he was doing and we know Christie does too.
So thank you, once again, Baroque Bird, for this last minute ticket 🙂 (very good stalls seat! with excellent view of the orchestra, choir and singers; though it was on the side, I didn't have trouble hearing the soloists. My favourites were Thorpe and Yandell in their duet). Royal Albert Hall looks even more daunting when you look up from the stalls – 7 level (ha!) all in all.
So now back to Tito. Remember, the livestream is tomorrow at 6pm GMT, up on the same page for one week 😀
(1) Guth managed not to fuck up this Mozart! (praise the gods)
(2) Mezzo Vitellia = YES! ROH take note. It's time to bring Tito back to London.
(3) DVD! Not only a livestream, a Proms stint but also a proper DVD is in the works. 4 Cameras were in the house yesterday. Glyndebourne does things in style (also it was high time they put the old production behind).
Tito: Richard Croft
Vitellia: Alice Coote
Sesto: Anna Stéphany
Annio: Michèle Losier
Publio: Clive Bayley
Servilia: Joélle Harvey
Conductor: Robin Ticciati
Orchestra of the Age of Enlightenment and The Glyndebourne Chorus
Clarinet obligato: Katherine Spencer
Director: Claus Guth
When the last echoes of the Act I finale faded I thought to myself I don't want to wait for 1 1/2hours! At the end of Act II I said I was ready to come back and see it for the rest of the week. Guth and team have put together a highly cinematic Tito.
I kept my mind clear of any reviews before this report so you shall see for yourselves on Thursday and make your own judgments. So far, though – and you know how it is when you have to focus on everything at once and can't stop the show and "rewind", or go to the kitchen for a moment and ponder, and especially when it's your first time seeing your favourite opera staged – I am very pleased with Guth's take on it. It's dark but it's not quite as angsty as I feared (certainly not as angsty as his TADW Poppea). Ticci himself opted for a super clean libretto to go with brisk – rambunctious, even – tempi. The house was packed and the applause generous throughout plus lots of stomping (especially for Stéphany) at curtain call. I am of course very happy to see such a hearty reception for my favourite opera 🙂
We did not luck out with our seating. It seems there's an unwritten law that says lots of the action in a staged production shall happen on the right side of the stage (from the audience's perspective) – unless it's Wagner, says Leander (read her take on this performance of Tito here), who actually sat through 5 hours of Tristan for Connolly's sake. We, of course, had seats on that side of the horseshoe). So we did miss a fair bit of the action (such as the shooting of fake Tito). I'd moan more if there were no livestream and DVD or me going again next week.
Evil Sesto. Sometimes Guth's interest in deeper psychological investigation pans out. Here we have the return of the lesser spotted evil Sesto. Normally we know who our baddy is. In this case Vitellia is ambitious and dangerously driven by scorn but it feels like high drama would've been averted had Tito simply made the nature of his generosity clearer. Moral: if you pride yourself on working for the higher good, take time to speak to all your subjects, lest someone feels shafted due to miscommunication. People aren't used to such levels of goodness and they might take your kindness for love.
But what of Sesto, eh? During the overture we had video projections. Praise the lord, they do serve a clear purpose here, as they give us a snippet of Tito and Sesto's friendship. It's a neat little black and white short that focuses on a key moment of their childhood. I won't spoil it for you if you don't know yet what happens. Watch it on Thursday 😉 Let's just say that it tells us there is something inherently wrong with Sesto. I'm game with that! Guth gives us a possible answer as to why Sesto keeps getting into these ambiguous relationships. It makes that line ch'io son l'oggetto dell'ira degli Dei work for us 21st century audiences.
It's kind of interesting that Stéphany ended up playing this new incarnation of evil Sesto not that long after her stint in the Zurich production of the original evil Sesto. Whereas that one was very self aware rotten, I feel this one is bad in spite of himself. He doesn't want to do harm but he keeps succumbing to those atavistic impulses. I like it. The black and white short's atmosphere reminded me a bit of Haneke's White Ribbon. (Speaking of films, a favourite of mine – and if you know it you won't be at all surprised I like it -, the Japanese classic Onibaba, also has sex, betrayal and revenge happen within a world of tall grass).
As you (may) know, my previous experience of Stéphany live left me very unimpressed with her acting abilities, to the point where I purposely missed that particular revival of the Zurich Tito, even though it's one of my very favourite takes on the story and I would like to see it one day in the house, if they still hold on to it.
Before the show started I said to Leander that I'm open to possibilities, as long as the whole works out. And I have to say that within this whole Stéphany did work out. Leander herself, who bitterly lamented the cast change, ended up saying she did not miss Lindsey in the end. The public gave her stomps. So you know she must've done something right.
She did. Her singing was technically flawless. The coloratura was as flexible as anything (what is it with French singers and top coloratura chops?), she divested herself of a couple of well placed and new to me flourishes on each of Sesto's big arias and the initial partos had individuality enough to inform us of his bravado/indecision. She made a surprisingly convincing troubled young man (early to mid 20s?) and would've done so even absent the (well done) facial hair.
For me she was just short of spectacular because I still want more (or warmer?) charisma in Sesto, more can be done with Deh, per questo aside from beautiful/energetic singing and I also want a ringing chest touchdown in Parto, and, of course, a truly memorable voice. But that's me with my standards for this character, which have prevented me from settling on a number of staged productions until now. You can argue this quasi-psychopathic Sesto does not need the warmer charisma, Leander will say her voice is finer than Garanca's. I may yet grow to like the performance more upon further investigation, because I am already a big fan of the Tito/Sesto background story.
900 words before we get to Vitellia. Let it be put in print that Vitellia is hands down my favourite role for Coote. I like her even better here than as Ruggiero. What I was saying about her voice's texture proved true. YES! We need a mezzo Vitellia more often (3 mezzo Tito = for me! 😀 ) and those who are willing, let them sing the hell of her.
I don't know about the neck brace, but I had no problem whatsoever with her singing last night. It got to the point where I was thinking: why do sopranos sing this role, again? And you know how I love my Roschmann1 Vitellia, which I should re-listen to see why indeed. (With a mezzo you don't get the intended screechiness but you get more unshakable power instead). Coote's voice has got the right warmth and weight and she managed the high notes like the pro she is. I've seen her quite a bit this year (1 x Octavian, 2 x Ariodante) and I have to say, the woman knows how to sing.
Baroque Bird was asking what is she known for? (as in what genre). And I said, everything! She is at a point in her career where she can navigate everything, reason for which I vote she sings more of this stuff – earth to ROH again. I guess you could – and after the livestream I probably will – make a deeper analysis of her performance but for now I will just say I simply loved it, the rather benign crankiness and the coogarness of it. She's a determined woman and she found a way to get what she wanted – but didn't realise she unleashed something she couldn't quite control in the end.
Guth isn't very focused on Vitellia, having established she's rather succumbed to wishful thinking and misunderstanding than pure evil. She's ambitious enough to manipulate Sesto but her contrition at the end of act II is unusually credible. Her and Tito's interaction is likewise warmer and more mature than usual; they are more together as people than in most productions. She's getting more and more annoyed with the turn events take and is chain smoking in very tall grass, which caused Baroque Bird to suggest she could've set the Capitol on fire all on her own 😉
Vitellia (act 2 finale): Tito, I have to tell you something.
Tito: what is it now?
Vitellia: I started the fire. My chain smoking got the better of me.
Tito: Romans, keep Rome safe! Quit smoking!
Tito. We had a bit of a laugh at the intermission, what with the childhood short where Tito seems older than Sesto but not quite as much as the obvious age difference between stage Tito and Sesto. I joked that perhaps suave Sesto (is there any other kind?) has his Dorian Gray portrait in the attic. I wouldn't put it past this child of the corn.
Age difference out of the way, Sesto and Tito share an interesting natural feel that I don't know that I got in other productions. Usually much is made of the stunted relationships among the characters, which is reflected by a stiffness in their interactions. Here we have a moment where, in a rambunctious effort to get through to his best friend, Tito lifts Sesto off the ground, in a gesture that is both chummy and manages to draw further attention to Sesto's apparent youth – which he (Sesto) does not seem to like.
Their age difference can point out their different levels of responsibility/maturity. This Tito is very sane (though his limits are pushed) and a down to earth man, with a higher than usual (even among Titi) common touch. Yet he is forced in a position of power which finds him removed from the very people he wants to be close to. That's true to life. Once you get in a position of some sort of power, everyone, even those closest to you starts to treat you differently.
There is that moment when a frustrated Tito asks Sesto if he hoped to gain happiness by attaining power and Sesto says no. Well, perhaps Sesto would benefit from becoming more responsible. But this one can't.
Croft is here perhaps the most self effacing Tito I have seen. He too is a cog in the system. His subjects (the highly stylised-moving chorus) seem to act of their own accord, their adulation towards their leader a given but also a powerful force. Guth elects to use Serbate, dei custodi as the mob casting out Berenice2 rather than as an ode to Cesar. Another touch I really enjoyed.
So in the end, when Tito decides to defy the gods (mob?), it feels like this is his own breakthrough, with Croft conveying that with much clarity mixed with that specific brand of vulnerability that makes his characters so human with so little apparent effort. His Tito knows it's dangerous to meet badness with understanding and kindness but (in the long run) it's worse to perpetuate the cycle of violence and if there is one thing he can do from his position is attempt to break this cycle.
Croft's singing is also off the cuff, so when he gets to toss the endless coloratura in Se all'impero you may be fooled it's no biggie. He puts the benevolent in benevolent ruler by voice alone and Tito's mission statement comes off a less like a here's my big aria! moment and much more integrated into the whole. It's a rare achievement.
Tito's 1:1 with Sesto also benefitted from Croft's unfussy Tito. It was easy to believe him when he told Sesto I've never hidden anything from you. Their interaction here was, as it should be, driven by a genuinely friendly Tito. I think this particular Tito's drama is that he isn't unapproachable like others tend to be. He lost his approachability due to his position instead of something he has or hasn't done.
… there is more I want to say and surely it needs further pondering but right now I have to stop short to post this even if it's not completely done. Rest assured I'll have more to say in the next few weeks and again when the DVD comes out.
Two more things before a more step by step rundown after Thursday: the clarinet/basset horn was fab and the chorus, drafted at the back of the stalls/under the boxes during the Act I finale was in very good form – and very effective due to the positioning (shouts of tradimento! coming from underneath), sending shivers up my spine.
As I was saying, there were some harkbacks to the classic Salzburg Tito, among them the tiered structure, about which Ticciati gives a neat little explanation below:
Chatty mature lady: have you seen Gerhaher before?
dehggi: yes, but not in recital, only in Tannhauser.
Chatty mature lady: he was the only reason I went to see Tannhauser!
dehggi: ❤
So it came to pass that I saw Gerhaher at Wiggy. I suppose had I hunted for returns I could've seen him earlier but for all my traipsing around I really am not the type to hang around for returns (or anything else). If they happen organically… you've heard me say that before. My current ticket was such an organic occasion – Baroque Bird couldn't go and we had talked ahead of time that I would gladly take the ticket given those circumstances.
Johannes Brahms (1833-1897)
Die schöne Magelone Op. 33
Christian Gerhaher baritone
Gerold Huber piano
Ulrich Tukur actor
The beautiful Magelone is the story of a young knight who goes out on a maturity quest, which provides many occasions for exceptional feats of arms, proofs of great courage and wise choices for someone so young. Also, a seemingly endless opportunity to sing. His name is not Magelone – that's the princess who falls madly in love with his jousting skills and singing chops. He is more modestly named Pierre. I've learned all this with the help of Tukur, who provided the (English) cliff notes to what happens in between the singing bits. Although he scared us all non German speakers when he did the introduction in German.
I've not seen a song cycle done this way before but it sure helps those on an erudition spectrum 😉 I saw on operaramblings that Soile Isokoski just had a recital with surtitles in Toronto, so perhaps this trend is catching. (Now that I dug a bit, here's further proof of my sliding down the spectrum: this cycle seems habitually done this way; Goerne performed it the same way at Wiggy, 11 years ago!)
As you know I'm not the kind to spend a performance with my nose stuck in the programme (if it comes into my possession organically I will peruse it beforehand but unicorns are surprisingly rare at Wiggy). Surtitles = please bring them on. An actor reading it = even better, if all parties can afford the addition.
The story as read by Tukur proved hilarious. My fave part was this: a random nosy raven shows up just when our hero finds his three rings inside the locket of his conveniently asleep beloved – after he'd "eased off her dress". Wait, what??? What kind of noble knight behviour is that? No wonder a raven showed up and flew away with the ring(s). Moral conundrums aside, our hero dashes off after the raven and, long story short, he falls into the Mediterranean, gets caught by moorish pirates and ends up sold into slavery to the Ottoman sultan (quite historically accurate, no?).
This is the type of story that ends well, so the two lovebirds find each other again – also by chance, after we understand that each of them has gained their gender required knowledge in the ways of the world (Magelone picks herself up, realises that he has not left of his own volition and waits for him whilst doing assorted au-pair duties for a farmer family in the Naples countyside – obviously back then even rich families didn't enlist the help of local law enforcement to look for their missing damsels).
You might be wondering by now but dehggi, what happened to the raven? No? What about Gerhaher on his white horse? Oh, yes! He waited gamely for the cliff notes to unfold and then launched into Pierre's mood-illustrating songs. Gotta love the Romantics, they were really confident in their genius. All these songs on a medieval theme sound absolutely nothing like one would imagine medieval music. No matter, though, because they are very fine indeed, and cover a wide range of moods. You can say that Pierre's basic nature is jolly but, of course, what with loving and then losing (thanks for nothing, raven!), some somber tunes found their way within as well.
With this format there is inevitably a break in the mood, because reading a Romantic story in a 21st century English translation is one thing and singing Brahms in German is another. Sometimes I really wanted to find out what happened next and hear the music separately at a later time, Gerhaher or no Gerhaher. But his phrasing is really gorgeous and when he was singing I didn't want us to go back to reading. I also really like his top (as well as his tie), as showcased by these songs. He's the kind of singer whose fach affiliation you don't have to question – he has the density and just enough weight – but who has heart flutter inducing notes up and down the range. So I gently fainted with the rest of the damsels (the hall was packed) and sighed behind my veil.
As I was saying in an earlier post, I liked this very much indeed, but being other it wasn't easy to write about. Also I've been sucked into the blackhole known as other interests these days and have generally neglected to put words on paper screen (what do you mean other interests? what can be more interesting than l'opera??? I know, I was shocked too. Sabotage!).
Anyway, a fitting return of Thursday's Something Else. Let's see what the blurb tells us:
In this special, one-evening concert, The Royal Opera joins forces with Shubbak Festival to showcase works by five composers from the Arab world. Shubbak is London's major biennial festival of contemporary Arab culture, connecting London audiences with the best of Arab culture across visual arts, film, music, theatre, dance, literature, architecture and debate. This evening in two parts will share and celebrate short works by five composers, centring on the premiere of scenes from Bushra El-Turk's new opera Woman at Point Zero.

Woman at Point Zero is based on the seminal novel by Egyptian author, feminist and doctor Nawal El Saadawi – an allegorical tale of historical female oppression in Egypt that questions what true freedom and empowerment can mean for women today. Preceding extracts of Woman at Point Zero are the UK premieres of chamber works by the four participants of The Royal Opera and Shubbak's inaugural Arab Composer Residency programme: Amir ElSaffar (Iraq/US), Nadim Husni (Syria/Poland), Bahaa El-Ansary (Egypt) and Nabil Benabdeljalil (Morocco).
Though St Luke's – an 18th century church converted into a musical venue – is located at Old Street and thus very convenient for yours truly and I got there with time to spare, I managed not to land a programme, being more focused on getting from point A to point B (seating) inside the venue, so that I could find a nice spot on the balcony to better view the stage. Thus I couldn't tell which piece/composer came first, middle and last.
The pieces ranged from what a rather clueless Westerner (yours truly) would call Middle Eastern singing backed by a string quartet to some string shredding that would not look out of place in an extreme metal festival, via a piece that combined Polish folk singing and Middle Eastern instrumentation rather interestingly – so full circle. Unsurprisingly I felt serious kinship with the entirely instrumental string shredding – very fine work from the LSO violonist, whom I would nominate if I had the programme… – in spite of the heavy angst – or perhaps it was just simply very energetic.
After the interval we had the scenes from Woman at Point Zero, entirely orchestrated with an array of very good looking world music wind instruments and an accordion that sounded like no accordion I've ever heard. That was a very good thing, as if there is one instrument I can't stand it's that one1.
The scenes were staged in a manner that reminded me of Sellars' treatment of The Gospel According to the Other Mary – that is, movement was integral, staging minimal. Now seeing as how this shapes up to be chamber opera, that was ideal. The orchestra, made up of 6 musicians, was also called to move throughout the piece. I was highly impressed with how they managed to interact with the main character (The Woman) whilst playing without scores (especially the flautist). I'm compelled to add that I find myself a lot more responsive to this contemporary type of dance than to its classical counterpart. Maybe I should start the broadening of my ballet horizons via this.
At the beginning they were all lined up at the back of the stage, in hieratic poses. As The Woman starts to breath, the wind instruments help her find her voice, coming closer and closer and offering her a variety of primordial sounds. This is a feminist text so that was an excellent illustration of one's emerging sense of self. It also harked back – I think – to the Ancient Egyptian Ka. I loved it. Soprano Merit Ariane Stephanos (one of the forces behind the inception of the project) did a mesmerising job with the title role.
The scenes continued like this, The Woman recounting the events of her life that built on her present condition, which seemed both desperate (death row) and keenly self aware. It's a very typical story of Woman trying to find her place in a society that does not offer her much of a choice. What impresses is of course her inner strength and desire to better herself/discover her worth.
The "recit" part of the text is spoken (no Spechgesang) in English and sung in Arabic, so we have an interesting and quite seamless combination of Western and Arab. The recits are contemporary music in ethos whilst the singing seems written in traditional manner from around the world, which also helps illustrate the divergent forces that create the drama at hand.
To get a better idea, check it out here and read the blurb below the video as well, it's got more info:
July is the time when the ROH audience checks on the house's young artists to see how they've grown. I found this year's programme rather ambitious and the results mixed.
Verdi: I due Foscari, Act II (duet)
Conductor: David Syrus
Lucrezia Contarini: Vlada Borovko
Jacopo Foscari: David Junghoon Kim
This is the kind of opera that kept yours truly aloof from the art form for so long. I couldn't wait for the overwrought scene/duet to be over. If you can't pinpoint it in your mind, imagine the typical belcanto duet between important/main characters who are about to be parted by fate. It's mainly Italian angst, with moments of gloomy recit, ominous shredding from the string section for the moments when ghosts are mentioned (one of the characters is ever on the brink of a breakdown, the other one tries more or less feebly to be their rock but it's obvious they are also suffering) then a cheerful tune gets shoehorned in (so that the audience can draw a breath) and is explained in the dialogue by "outdoors sounds" such as the gondolier, good moment for the whinger to draw attention back to their plight, so that the hand wringing can start anew and continue for another 15min. Kim is on the right track for this kind of thing and has a beautiful tone but he's obviously too young for the finer details this 19th century brand of Italian neuroticism needs.
Nowadays they simply have women either dressed in an updated version of '80s powersuits or as lalala bohemians. Borovko looked utterly in charge in her suit which I dare say was curious for Amelia Lucrezia. Then again, I despise this opera so much that I might have missed something essential. I doubt it, Romantic opera womenfolk were utterly decorative.
Upon return home I realised this was not Simon Boccanegra.
Massenet: Cendrillon, Act II (duet)
Conductor: Matthew Scott Rogers
Cendrillon: Kate Howden
Prince: Angela Simkin
Massenet, eh? Poor mezzos, he wrote for them but alas, I don't like his saccharine stuff. For once I would've like the mezzo singing the trouser role to wear sensible shoes but it was not to be. Aside from that, Howden and Simkin's interaction was not bad at all. Sometimes when I see mezzos and sopranos singing to each other of love I feel the interaction is actually helped by them both being (straight) women. It's almost like they think whew, it's just her, I won't get distracted by wayward hormones, I can focus on the notes I'm supposed to sing and when I have some free time I can glance at her in a chummy manner – which masquerades surprisingly well as young love. Howden covered for an indisposed Emily Edmonds and I can't complain about anything, but then again, Massenet. Simkin had more of a moment here than as Isolier later on, obviously since this is a duet, and though I again have no complaints, I also didn't feel particularly wowed by her tone.
Mascagni: L'amico Fritz, Act I (duet)
Conductor: David Syrus
Suzel: Francesca Chiejina
Fritz: Thomas Atkins
I find it a bit odd that I enjoy Mascagni quite as much as I do (Cavalleria) but there you go, I liked this duet as well. You might ask wait, how is this any less fluff than Massenet above? It's not but it's much more enjoyable music to my ears. Atkins and Chiejina had rather nice chemistry going and were well suited vocally. Plus, there was a really big bucket of cherries on stage and a hot summer day outside. Chiejina's cutely colourful maid outfit exemplified what I said above about the lalala bohemian vs powersuit.
Strauss: Arabella, Act III (final duet)
Conductor: David Syrus
Arabella: Jennifer Davis
Mandryka: Gyula Nagy
Jennifer Davis has a surprisingly large voice for her age, definitely able to cope with a Strauss orchestra as conducted by Syrus, and has a rather fearless attitude about attacking the highs and a good technique to back that. I could see from the Don Giovanni bit after the interval that Syrus was unusually careful in helping his singers do their best, so I suppose he was here as well. As far as the finer parts, well I guess that's where both nature and experience come in. I remember the fairly recent (sometime last year) Bayerische livestream of Arabella with Harteros in the title role, which I loved, so I think that's a good goal to keep in mind for aspiring Strauss singers.
Nagy sounded a bit stiff to me in what I imagine is a very tricky role. Aside from the livestream, my experience with Arabella is rather limited so I don't as yet have a good idea about who Mandryka is supposed to be, aside from a vaguely wild force, personification of sexual desire as experienced by virginal women? Anyway, one needs a bit of stage and life experience to make that work.
Rossini: Le Comte Ory, Act II (final scene)
Conductor: James Hendry
Countess Adèle de Formoutiers: Francesca Chiejina
Isolier: Angela Simkin
Count Ory: David Junghoon Kim
This hilarious trio/scene elicited a lot of mirth, as it usually does, even though I dare say none of them are natural Rossinians, and thus the finer details did not shine. Hendry must've got a bit too much into it and, perhaps skewed by Strauss volume levels, let the orchestra rip which often covered the singers. But they were mostly funny, especially Kim who got into the nun act. The bed cover looking like something from Pylones added to the silliness.
Interval
Mozart: Don Giovanni, Act II (from Zerlina finding Masetto to end)
Conductor: David Syrus
Fortepiano continuo: Nick Fletcher
Donna Anna: Vlada Borovko
Donna Elvira: Jennifer Davis
Zerlina: Haegee Lee
Don Ottavio: Thomas Atkins
Don Giovanni: Gyula Nagy
Leporello: David Shipley
Masetto/Commendatore: Simon Shibambu
As I was saying earlier, Syrus did a really good job with the volume here, definitely one of the better ways to approach DG that I have heard at ROH, where conductors seem to think this is early Verdi. The singers were properly cradled and it showed once again how good Mozart is for young singers regardless of what voice type their future has in store. It was easily the best moment of the evening.
Thomas Atkins as Don Ottavio got the most applause. It's true he has a very fine tenor that works with many things and he coped pretty well with Il mio tesoro, a bold choice to be sure. Let's say I'd rank my ROH Don Ottavios like so: Antonio Poli, Atkins, Villazon. Nagy was much more at ease with the Don than with Mandryka and I think he makes quite a dashing figure; I see this role in his future, he has it all going for him. ROH says he is a baritone but I felt he was rather a bass-baritone or he will be one soon.
Generally I was impressed with the density of the basses and the baritone voices on display – proper stuff. To that end, Shibambu divested himself well of the lugubrious DON GIOVANNI! cry one expects from the statue. He needs a bit more projection for the big stage but otherwise smooth sailing. Btw, I noticed he constantly gets to wear a military uniform but then I guess that's the lot of basses, what with their authority figure repertoire. Shipley as Leporello was pretty good, too, not overly funny but his interaction with Nagy's Don was on the money.
Borovko returned as Donna Anna. Now that I've seen her recently in a big role I can say this: her top is very good and her coloratura ace but the cloudiness from the middle down seems constant. I don't know what others hear but if this is simply how her voice sounds I can't see myself getting excited in the future. Or perhaps she needs to find herself very high roles and stick with those? How about contemporary opera, then. Davis as Donna Elvira wasn't bad at all, coping very dutifully with all required, though I still think Strauss is where she needs to aim. This Donna Elvira was abjectly in love with the Don but I think Davis got her – tricky for the contemporary mind – preoccupation with saving DG's soul from eternal damnation.
Sopranos: Vlada Borovko, Francesca Chiejina, Jennifer Davis
Mezzo-sopranos: Angela Simkin, Kate Howden
Tenors: Thomas Atkins, David Junghoon Kim
Baritone: Gyula Nagy
Basses: Simon Shibambu, David Shipley
If you think I was a bit hard on the young singers, bear in mind that I somehow managed to get there two hours before the start of the show (I thought it started at 16:30 instead of 6:30. I know, getting old…), after which I decided to wander around and (re)discovered what a consumerist Mecca Covent Garden is. Let's start with the hapless straw hat "boy with guitar", whom I was this close to pay a fiver to shut up for a few minutes. Worse even than a Verdi dirge is a wounded bohemian pop tune. You know the kind, something from the late seasons of Dr House. Try stepping into a shop, they all play music – your choice is now bubblegum pop with nondescript teen voices. Then there was the obligatory curly haired musician setting up his amp to blast what sounded very much like gentle Shoreditch downtempo cca 2003. I guess these moves are savvy, it's touristy as all getout around there and all of the above are now part of the pop psyche.
I couldn't take it anymore so I scurried into a book shop (where I knew they don't play any music) to read Andrew Eames' account of getting morbidly bored on a barge on the lower Danube. What was he thinking, right? Muddy water, catfish, poplars and weeping willows, engine fuel, moody sailors – a proper circuit party.
But the Comte Ory trio got stuck in my head for days, so things righted themselves to an extent.
This is, I think, the first production of Mitridate I watched on yt, early on in my opera days. Because it's so old (1993) I didn't think I would get to see it in the house but here we are! Thanks a lot to whoever had the idea this fun production of a very early Mozart opera should be unearthed 🙂
As we all know, this is one of Mozart's first (the first?) important commissions and he got to conduct it in Milan, one month shy of his 15th birthday. They really did things differently back in ye olde 1700s. I mean 14 olds were surely more mature then, perhaps more like 17-18 year olds nowadays, but still.
Last night's performance was recorded by BBC3 and you can listen to it here on 8 July.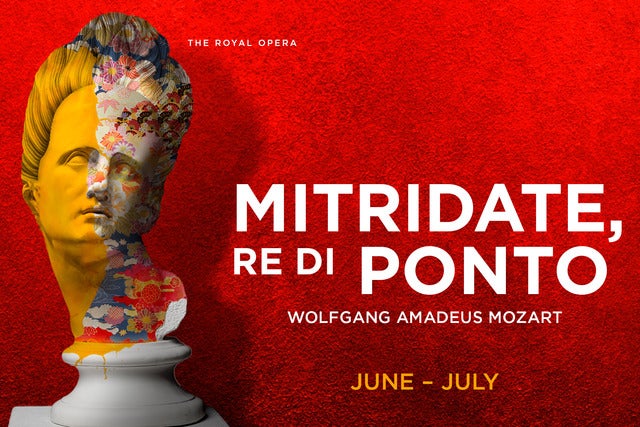 Mitridate:  Michael Spyres
Aspasia: Albina Shagimuratova Vlada Borovko
Sifare: Salome Jicia
Farnace: Bejun Mehta
Ismene: Lucy Crowe
Marzio: Rupert Charlesworth
Arbate: Jennifer Davis Francesca Chiejina
Conductor: Christophe Rousset | Orchestra and Choir of the ROH
Director: Graham Vick
As you can glean from my scratches, we had some cast changes. The two above were last minute ones. But there were actually more. You may remember Anett Fritsch was first scheduled to sing Sifare, but she pulled out with time to spare. Marzio was initially meant to be sung by Andrew Tortise.
We ended up with a bunch of young singers. The lady next to me lamented aloud at the announcement about Shagimuratova. I, not being Shagi's biggest fan (though she has plenty technical skills, as I saw with her Donna Anna here and heard with her Semiramide at last year's Proms), was happy for the youngsters to get breaks. Borovko is a Jette Parker Artist here at ROH and has already had smaller roles on the main stage but this is surely a big break for her. You may remember Chiejina from the Guildhall Masterclass with JDD where she sang Donna Elvira's Ah, chi mi dice mai (a dehggi favourite). I think she's on the way to great things, lovely full voice and very amiable presence – she fit right in and her diction in Arbate's recits was not bad at all. "We" know Charlesworth from many Baroque outings in town and elsewhere and were likewise happy for him.
Borovko had a steep night ahead of her, especially as Aspasia has the first aria. She showed strong nerves indeed, as she navigated it with poise and sang without a hitch. The public was very happy for her, lots of applause. As the night progressed her voice clouded but it's unsurprising, given the tough task at hand. I was wondering if she covered or pushed a bit – she has a very plum voice so young – or if it was the nerves seeping through – but I really liked her pluck. A commendable effort. It's very unusual to see such a young singer as Aspasia, as young Mozart was ruthless and in no way makes it easy for the singer. Rousset, on the other hand, went very gently on his singers, much more so than Minkowski did with Idomeneo.
Speaking of possible nerves and something that sounded like covering, I heard that in Charlesworth's case too. No need, really. He has a beautiful, ringing tenor that projects well. His Marzio had a bit of Mighty Boosh going on, which was rather amusing. I can't remember if this was the case in the previous runs.
Aside from some rambunctiousness from the brass side, the orchestra "behaved" in its supporting role, as much as a non-HIP orchestra will with this type of music (they really have a come a long way from that 1963 night with Karajan).
Another reason the singers were lucky with this production is its very stylised nature, spilling into stage movement, which doesn't give one much room for spontaneous acting. Normally you'd think it a block but when you're busy focusing on your very difficult arias it's surely a blessing.
Nonetheless, Mehta and Crowe, matched again as a couple shortly after the gorgeous Rodelinda in Madrid, found ways to sneak spontaneity into their acting, to the delight of the packed auditorium. Yes, even an early Mozart sells ROH out, such is the Salzburg runt's legacy.
This is one of my favourite ROH productions, matching two qualities dear to my heart: simplicity and imagination. At no time there is anything on stage that has no function, symbolic or otherwise. Vick had the good sense to make the red velvet side panels movable so when singers had a particularly important aria the walls moved closer and the sound was not lost backstage. You probably can't make this out in the video but it was both practical and effective regarding stage action. The rectangle shape of the walls fit the abstract design too.
The costumes, though taking their cue from crinolines, were a lively take on the design, with striking bright colours in pleasing hues, adorned with intricate patters. I bet they were a fun challenge for the costume department!
The choreography added another positive accent. There are times when you – especially me, who don't quite feel dance – aren't sure why choreography is there but put up with it anyway. In this case the dancing fell to the attendants of this and that character – though in arias the singers sometimes were called to join in – who also acted like a silent chorus, marveling at or approving whatever else was happening on stage. This has the potential to be too much but not in this case, as it was done in a playful manner, which took a bit off the very earnest atmosphere of the libretto.
I like the plot quite a bit but it's solidly post-Baroque what with a large amount of lamenting one's harsh fate – I was happy for any levity. How can anyone not like Mitridate's personal guards who look scary to the point of parody? But the OTT-ness felt to me in perfect keeping with the Baroque-Classical idea of entertainment (it's opera, not a history lesson).
The quintessential stars of the evening were Lucy Crowe as Ismene and Bejun Mehta as Farnace, both of whom showed simply wonderful artistry and style. Still, for the "kick" arias in a large venue I feel the edge of a mezzo's voice would add an extra oomph and evilness, yet I greatly enjoyed his sense of style (gorgeous dialogue with the orchestra) and the little, presumably spontaneous (once or twice just tossed off) trills he added on occasion.
It's always great to see a role veteran at work, from the moment Farnace walzes in with feigned carelessness and asks Aspasia to stop rejecting him (or else), through Va, l'errore mio palesa, when he comically bumps Ismene out of the way, to his U-turn in Gia dagli occhi, which was taken super slow and the audience broke into applause before the last repeat of the A section – and I actually joined them! though I'm very well acquainted with this aria in its extended version. To quote the Emperor, too many notes, Wolfie. Seriously, when I overheard my very young seatmate sigh before the third repeat I couldn't fault her for it. It goes on and on. Ffwd to 1791 and Mozart's super brief take on opera seria – worlds away. Then again, not fair comparing a 14 year old with a seasoned 35.
But the audience was right to applaud, Mehta's soft singing is buttah. His interaction with Crowe was some of the best stuff of the evening, you could feel the connection the characters are supposed to have beyond the momentary rough patch.
The first time Crowe genuinely impressed me was the above mentioned Rodelinda, where she sung the title role. I am very happy to report she continues to rock. She had the best night vocally (and likely otherwise), with all the (many) trills flowing effortlessly and her sense of Mozart style was fabulous. On top of this, she, as I said above, managed to act through the stylised choreography, making it a springboard for a dialogue with the public. This works for Ismene, who, as the second woman, is the wise character, always acting in diplomatic ways that ultimately restore order. We know Mitridate, his sons and Aspasia have to reconcile their differences; she is the one character who shares our knowledge that things can't be as bad as everyone else laments they are.
I can't say I was convinced by Jicia as Sifare. Her performance was patchy as far as I can tell – sometimes the voice was really on, flowing beautifully in difficult passages, at other times it seemed blighted by… something I can't quite put into words. Almost as an old AM radio going in and out of proper reception. Her acting was pretty much what the stylised production required, nothing more, nothing less. I obviously don't know about her interaction with Shagi but with Borovko it was rather cold – possibly understandably so. Still, as this is the main romantic relationship of the opera it felt underwhelming.
Michael Spyres in the title role was solid. He's already sinking his claws into this role but to me he's no Bruce Ford (the veteran of the ROH production). I've even sampled Richard Croft's take on the role and I still think Bruce Ford is Mitridate. Even though both Croft and Spyres have more elasticity, that typical resonance and the spcific type of characterisation in Ford's voice wins it for me1.
Out of the three, Spyres' is the least recognisable voice, with a bit of Rossinian fervour seeping through. He was also struck by a bad case of nerves in his first aria but carried on without batting an eyelash and things got much better. He has the stage presence and the capacity to navigate the runs, yes, and his work with dynamics isn't bad at all, but I didn't feel the same level of musicality and Mozart-feeling as with Crowe and Mehta.
Genderwise, it's interesting how they cast this opera nowadays, with a soprano as the good son and a countertenor as the sexually forceful villain. Make of that what you will.
The night was, objectively speaking, a mixed bag. But as far as I was concerned I had a swell time, because of the top drawer job Crowe and Mehta did and because this production is, to me, a thing of beauty2. It makes me smile, it suits my sense of design and I am really happy to have seen it in the house, especially in the company of these musicians.
It's so OTT that it can still deliver even though times have changed so much since 1993 and only last year we've had those two game changing productions of Mitridate. It's also probably lucked out – at least with me – that it returned to the stage in 2017 rather than last year, to compete with the very topical productions from Paris and Brussels. Post Brexit the focus has shifted yet again.