Mitridate, re di Ponto and Ismene the wise (ROH, 1 July 2017)
This is, I think, the first production of Mitridate I watched on yt, early on in my opera days. Because it's so old (1993) I didn't think I would get to see it in the house but here we are! Thanks a lot to whoever had the idea this fun production of a very early Mozart opera should be unearthed 🙂
As we all know, this is one of Mozart's first (the first?) important commissions and he got to conduct it in Milan, one month shy of his 15th birthday. They really did things differently back in ye olde 1700s. I mean 14 olds were surely more mature then, perhaps more like 17-18 year olds nowadays, but still.
Last night's performance was recorded by BBC3 and you can listen to it here on 8 July.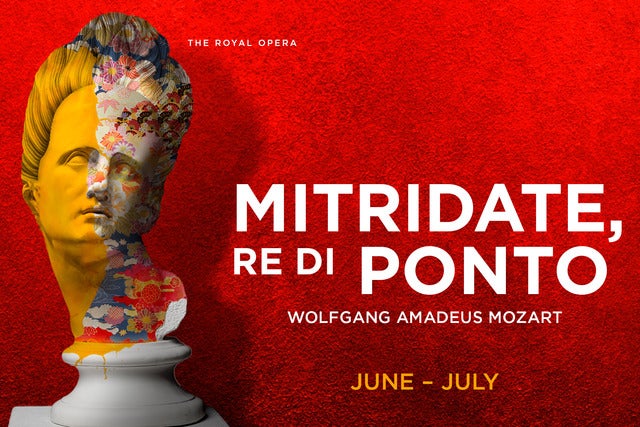 Mitridate:  Michael Spyres
Aspasia: Albina Shagimuratova Vlada Borovko
Sifare: Salome Jicia
Farnace: Bejun Mehta
Ismene: Lucy Crowe
Marzio: Rupert Charlesworth
Arbate: Jennifer Davis Francesca Chiejina
Conductor: Christophe Rousset | Orchestra and Choir of the ROH
Director: Graham Vick
As you can glean from my scratches, we had some cast changes. The two above were last minute ones. But there were actually more. You may remember Anett Fritsch was first scheduled to sing Sifare, but she pulled out with time to spare. Marzio was initially meant to be sung by Andrew Tortise.
We ended up with a bunch of young singers. The lady next to me lamented aloud at the announcement about Shagimuratova. I, not being Shagi's biggest fan (though she has plenty technical skills, as I saw with her Donna Anna here and heard with her Semiramide at last year's Proms), was happy for the youngsters to get breaks. Borovko is a Jette Parker Artist here at ROH and has already had smaller roles on the main stage but this is surely a big break for her. You may remember Chiejina from the Guildhall Masterclass with JDD where she sang Donna Elvira's Ah, chi mi dice mai (a dehggi favourite). I think she's on the way to great things, lovely full voice and very amiable presence – she fit right in and her diction in Arbate's recits was not bad at all. "We" know Charlesworth from many Baroque outings in town and elsewhere and were likewise happy for him.
Borovko had a steep night ahead of her, especially as Aspasia has the first aria. She showed strong nerves indeed, as she navigated it with poise and sang without a hitch. The public was very happy for her, lots of applause. As the night progressed her voice clouded but it's unsurprising, given the tough task at hand. I was wondering if she covered or pushed a bit – she has a very plum voice so young – or if it was the nerves seeping through – but I really liked her pluck. A commendable effort. It's very unusual to see such a young singer as Aspasia, as young Mozart was ruthless and in no way makes it easy for the singer. Rousset, on the other hand, went very gently on his singers, much more so than Minkowski did with Idomeneo.
Speaking of possible nerves and something that sounded like covering, I heard that in Charlesworth's case too. No need, really. He has a beautiful, ringing tenor that projects well. His Marzio had a bit of Mighty Boosh going on, which was rather amusing. I can't remember if this was the case in the previous runs.
Aside from some rambunctiousness from the brass side, the orchestra "behaved" in its supporting role, as much as a non-HIP orchestra will with this type of music (they really have a come a long way from that 1963 night with Karajan).
Another reason the singers were lucky with this production is its very stylised nature, spilling into stage movement, which doesn't give one much room for spontaneous acting. Normally you'd think it a block but when you're busy focusing on your very difficult arias it's surely a blessing.
Nonetheless, Mehta and Crowe, matched again as a couple shortly after the gorgeous Rodelinda in Madrid, found ways to sneak spontaneity into their acting, to the delight of the packed auditorium. Yes, even an early Mozart sells ROH out, such is the Salzburg runt's legacy.
This is one of my favourite ROH productions, matching two qualities dear to my heart: simplicity and imagination. At no time there is anything on stage that has no function, symbolic or otherwise. Vick had the good sense to make the red velvet side panels movable so when singers had a particularly important aria the walls moved closer and the sound was not lost backstage. You probably can't make this out in the video but it was both practical and effective regarding stage action. The rectangle shape of the walls fit the abstract design too.
The costumes, though taking their cue from crinolines, were a lively take on the design, with striking bright colours in pleasing hues, adorned with intricate patters. I bet they were a fun challenge for the costume department!
The choreography added another positive accent. There are times when you – especially me, who don't quite feel dance – aren't sure why choreography is there but put up with it anyway. In this case the dancing fell to the attendants of this and that character – though in arias the singers sometimes were called to join in – who also acted like a silent chorus, marveling at or approving whatever else was happening on stage. This has the potential to be too much but not in this case, as it was done in a playful manner, which took a bit off the very earnest atmosphere of the libretto.
I like the plot quite a bit but it's solidly post-Baroque what with a large amount of lamenting one's harsh fate – I was happy for any levity. How can anyone not like Mitridate's personal guards who look scary to the point of parody? But the OTT-ness felt to me in perfect keeping with the Baroque-Classical idea of entertainment (it's opera, not a history lesson).
The quintessential stars of the evening were Lucy Crowe as Ismene and Bejun Mehta as Farnace, both of whom showed simply wonderful artistry and style. Still, for the "kick" arias in a large venue I feel the edge of a mezzo's voice would add an extra oomph and evilness, yet I greatly enjoyed his sense of style (gorgeous dialogue with the orchestra) and the little, presumably spontaneous (once or twice just tossed off) trills he added on occasion.
It's always great to see a role veteran at work, from the moment Farnace walzes in with feigned carelessness and asks Aspasia to stop rejecting him (or else), through Va, l'errore mio palesa, when he comically bumps Ismene out of the way, to his U-turn in Gia dagli occhi, which was taken super slow and the audience broke into applause before the last repeat of the A section – and I actually joined them! though I'm very well acquainted with this aria in its extended version. To quote the Emperor, too many notes, Wolfie. Seriously, when I overheard my very young seatmate sigh before the third repeat I couldn't fault her for it. It goes on and on. Ffwd to 1791 and Mozart's super brief take on opera seria – worlds away. Then again, not fair comparing a 14 year old with a seasoned 35.
But the audience was right to applaud, Mehta's soft singing is buttah. His interaction with Crowe was some of the best stuff of the evening, you could feel the connection the characters are supposed to have beyond the momentary rough patch.
The first time Crowe genuinely impressed me was the above mentioned Rodelinda, where she sung the title role. I am very happy to report she continues to rock. She had the best night vocally (and likely otherwise), with all the (many) trills flowing effortlessly and her sense of Mozart style was fabulous. On top of this, she, as I said above, managed to act through the stylised choreography, making it a springboard for a dialogue with the public. This works for Ismene, who, as the second woman, is the wise character, always acting in diplomatic ways that ultimately restore order. We know Mitridate, his sons and Aspasia have to reconcile their differences; she is the one character who shares our knowledge that things can't be as bad as everyone else laments they are.
I can't say I was convinced by Jicia as Sifare. Her performance was patchy as far as I can tell – sometimes the voice was really on, flowing beautifully in difficult passages, at other times it seemed blighted by… something I can't quite put into words. Almost as an old AM radio going in and out of proper reception. Her acting was pretty much what the stylised production required, nothing more, nothing less. I obviously don't know about her interaction with Shagi but with Borovko it was rather cold – possibly understandably so. Still, as this is the main romantic relationship of the opera it felt underwhelming.
Michael Spyres in the title role was solid. He's already sinking his claws into this role but to me he's no Bruce Ford (the veteran of the ROH production). I've even sampled Richard Croft's take on the role and I still think Bruce Ford is Mitridate. Even though both Croft and Spyres have more elasticity, that typical resonance and the spcific type of characterisation in Ford's voice wins it for me1.
Out of the three, Spyres' is the least recognisable voice, with a bit of Rossinian fervour seeping through. He was also struck by a bad case of nerves in his first aria but carried on without batting an eyelash and things got much better. He has the stage presence and the capacity to navigate the runs, yes, and his work with dynamics isn't bad at all, but I didn't feel the same level of musicality and Mozart-feeling as with Crowe and Mehta.
Genderwise, it's interesting how they cast this opera nowadays, with a soprano as the good son and a countertenor as the sexually forceful villain. Make of that what you will.
The night was, objectively speaking, a mixed bag. But as far as I was concerned I had a swell time, because of the top drawer job Crowe and Mehta did and because this production is, to me, a thing of beauty2. It makes me smile, it suits my sense of design and I am really happy to have seen it in the house, especially in the company of these musicians.
It's so OTT that it can still deliver even though times have changed so much since 1993 and only last year we've had those two game changing productions of Mitridate. It's also probably lucked out – at least with me – that it returned to the stage in 2017 rather than last year, to compete with the very topical productions from Paris and Brussels. Post Brexit the focus has shifted yet again.